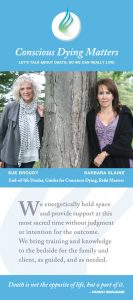 We are a group of kindred souls whose intention was to bring illumination, knowledge, and information, to the shrouded subject, of the inevitability of our death. Born from a desire to broaden the lens, lessen the fear, explore possibilities and to encourage participation and presence, in this sacred passage.
As Woody Allen states, he was happy till five years of age when he realized people just vanish. Lets face it, for a species that likes control and certainty, and has no connection to the natural cycles of life and death, this departure is disconcerting to say the least.
Avoidance and claiming that death is no big deal, we feel, is a missed opportunity to be part of the final curtain call, the culmination of a magnificent life, filled with jewels that surface at this time.
What will your of death say to your loved ones who live on? What is your responsibility, as in birth, to be conscious and have the tools needed to support this transition, and why not?
Our fear has a tremendous impact on the death of our loved ones. Trying to keep them alive, denying them peace and validation of their lives and departure. Opportunities lost to die at home, with loved ones, pets, and in peace.
The word dying is irksome, as you are living till you take your last breath in this physical body. Living is enhanced and made precious by the recognition that we die? If we really got it, can you imagine how much worrying and fear would be diminished? It is death of the ego that we are anything more then a brief flicker through time, and we have a choice. Will we contribute and evolve as a soul or add to the individual and collective chaos?
We all have to agree to disagree. How can we judge another's perceptions or desires? Our intention is to create a hub of information, so you can find what might resonate, what might expand your experience of life and death, for you and your loved ones. Walking with life and death together, hand in hand, creates expansion, reverence and love. Our wish for you is to have that experience.
Till Infinity and Beyond.
The Conscious Dying Matters Team
Opening the conversation and providing resources and services to support and embrace end-of-life transition.